Located in areas where there are high-concentrations of Spanish fleets, they offer on-site health care to any ship that requests it within their area of coverage, as well as providing radio consultation, outpatient care and even on-board hospitalization, when this is prescribed to patients. They also evacuate the patient to dry land using the fastest and most suitable method possible, if the case is serious enough to require this.
When carrying out their activity, they work together closely with the Radio Medical Centre of the Social Marine Institute and with the National Sea Rescue Coordination Centre of the State Sea Rescue Association, responsible for organising the evacuation of crew members from high seas using the most suitable method available, in the cases when evacuation to a port is urgently required.
In addition to their health care work, they also provide emergency logistical support such as the unhooking of nets, diving services, electrical repairs, etc.,  to the Spanish boats that require it, as well as the rescue of shipwrecked persons.
Health and logistical support ships "Esperanza del Mar" and "Juan de la Cosa".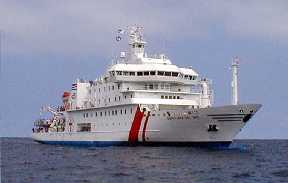 These are boats that have been specially designed as support vessels to provide health care and logistical support to Spanish fishing boats in any fishing ground, in every sea and ocean in the world, and under extreme weather conditions.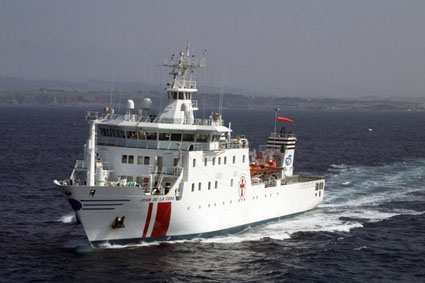 Built in Spanish shipyards, these ships boast the best state-of-the-art medical and technical equipment, they are the only ships in the world that have these features and what's more, they are owned by the Social Security Administration.
The design of both boats was based on having a hospital occupying an entire deck from the bow, with direct access to the heliport and the deck to facilitate the transportation of patients and shipwrecked persons to the hospital area.
The hospital area contains the following services:
Operating theatre.
Laboratory.
Intensive Care Unit.
Dressing room.
Radiology room.
Isolation ward (for the treatment of burns, infectious diseases and psychiatric conditions).
The ship also has a special area for shipwrecked persons, cabins, communal areas and service areas.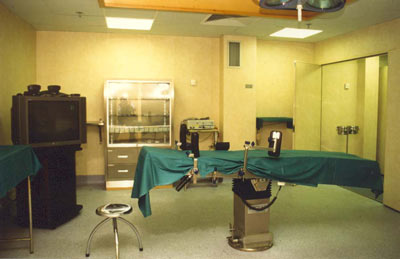 The initial capacity of the "Esperanza del MAR" is 17 patients in the hospital area and 30 in the area for shipwrecked persons. Both of these areas are separate from the rest of the ship's rooms. The "Juan de la Cosa" has capacity for 10 patients on the hospital deck, as well as 12 beds to increase the hospital capacity or for other uses.
Safety is the key concern at all times, as demonstrated by the spaciousness of the cabins, the arrangement of beds and cabin compartment systems, as well as the various floating and lifeboat recovery devices. This is crucial for providing urgent medical attention to other ships and for bringing patients on board the hospital ship.
The medical and logistical services provided from these ships are as follows:
Health care services:

Radio-assisted medical consultations.
Videoconference medical consultations.
Outpatient consultations on board the hospital ship.
Transfer of the mobile medical team to ships that request assistance. Hospitalisations in the on-board clinic.
Minor surgery.
Evacuations using helicopters, other vessels, or the hospital ship itself.

Urgent Logistical Support Services:

Scuba-diving tasks.
Mechanical assistance.
Electrical assistance.
Electronic assistance.
Tugging.
Water supply.
Emergency fuel supply.
Collaboration with Navy ships in the area.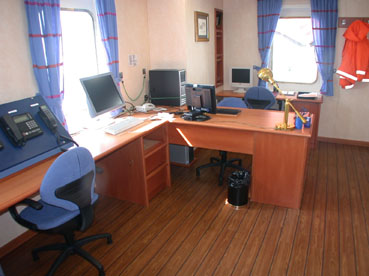 Communications with the support vessels can be done using the following methods:
Radio Frequencies: 2,182 Kilohertz (KHz). Very High Frequency (VHF): permanent channel 16
Esperanza del Mar:
Emblem: EBUQ.
MMSI: 224731000
Global Maritime Distress Safety System (GMDSS): A1-A2-A3-A4
Digital Selective Calling (DSC):
Frequencies VHF, Medium Frequency (MF)/High Frequency (HF) of the GMDSS.
Radiotelex NBDP no. 08731
Selective calling DSC 2177/VHF 16.
INMARSAT TLX, EGC.
Std-C (581) 4 224 731 20
Radiotelephony.
Calling frequencies between boats: 2272 KHz.
MF 2182, VHF ch. 16.
INMARSAT Voice.
Std-B,1  00 871 3 224 731 10
Fleet 77,2  00 870 7 639 794 18
Fleet 77,3  00 870 7 639 794 15
Mini-M, 1  00 870 7 628 629 79
Mini-M, 2  00 870 7 618 308 44
Mini-M, 3  00 870 7 628 629 45
INMARSAT Fax.
Fleet 77,3  00 870 6 003 821 56
Mini-M, 2  00 870 7 618 308 45
Juan de la Cosa:
Emblem: ECJE.
MMSI: 224612000
GMDSS Areas: A1-A2-A3-A4
Digital Selective Calling (DSC):
Frequencies VHF, MF/HF of GMDSS.
Radiotelex NBDP no. 08612
INMARSAT TLX, EGC.
INMARSAT C: (581) 4 224 612 20
INMARSAT C: (581) 4 224 612 10
Radiotelephony.
Calling frequencies between boats: 6224 KHz.
Swordfish Boats Frequency: 12,356 KHz.
INMARSAT Voice.
Fleet 1  00 870 764 618 166
Fleet 2  00 870 764 618 168
Mini-M" No.1 00 870 764 618 162
Mini-M" No.2 00 870 764 618 158
INMARSAT Fax.
Fleet 1:  00 870 764 618 167 (Priority)
Fleet 2:  00 870 764 618 169 (Priority)
In the event of fault of the aforementioned fax numbers, they may be replaced by:
Mini-M" No.1 00 870 764 618 163
Mini-M" No.2 00 870 764 618 159