Welcome to the Social Security Website. Here you can find all the currently available information and documentation.

The Social Security Website aims to reach the greatest number of people and, as a result, its language policy is based on providing citizens with access to as much translated content as possible.
Owing to the need for the Social Security Website content to be immediately available, you will always have access to the Spanish version of the content. In addition, and in order to meet this aim, since 2005 the content has been translated into six different languages: the four official languages of Spain, as well as English and French.

The large amount of content to translate and the periodic updating of some of this means that the incorporation of the translated content is a gradual process, with the intention being to have the maximum amount of content available in the portal's various languages.

There is content, such as the section titled "Regulations" -which contains the rules related to the operation and powers of the Social Security- that is not translated due reasons of legal certainty and is published on the Website as it actually appears in the BOE.

You can select the language as follows:

On the pages that can be viewed in languages other than Spanish, a drop-down menu for selecting the browsing language will be displayed in the top right-hand corner of the screen, as shown below: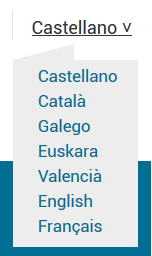 After clicking on each of the options the language will remain in the selected language for the entire session, provided that the content has been translated. If the content has not been translated into the selected language, you will be given the option to view it in Spanish.