New Application: On Line Temporary Disability
As of 4 September, a new application will be available in the RED Services: On Line Temporary Disability.
This new feature includes three new transactions through which you will be able to carry out new actions on medical certificates that are sent in in batch mode.
The new functions are: 
Query certificates



Cancel TD processes



Issue reports

The way to access this new feature is the same as for the rest of the RED On line applications (Online Affiliation and On line Contribution), so a new option will be added to the RED Services: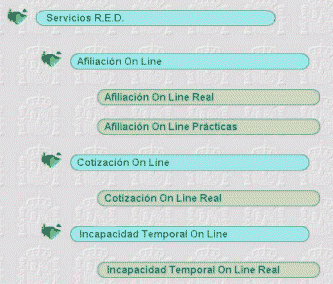 When you select the option 'On line actual Temporary Disability', the main menu appears with the operations that you can use.
Attached is the user's manual for the new application.
En la siguiente tabla podrá descargarse los siguientes Documentos.

| Documentos | Download | Fecha |
| --- | --- | --- |
| On Line TD User Manual | (PDF,494 KB) | 03/06/2008 |